About MPL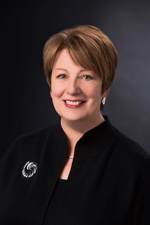 Welcome from Library Director Paula Kiely
Last year we invited our friends and neighbors to attend the opening of the brand new East Branch at 2320 N. Cramer Street. In the first 10 months open, the number of new library cards issued has almost doubled and the total number of library card registration is up 40%. There is new public art, new programs, and new partnerships have been developed with neighborhood organizations.
We look forward to the same success with the re-opening of the Tippecanoe Branch at 3912 S. Howell Ave. A Grand Opening has been scheduled for Saturday, December 12 from 10 a.m. to 1 p.m. The library will be open until 5 p.m. Everyone is invited to see the renovated space which includes green infrastructure enhancements, flexible and collaborative meeting spaces, dedicated adult, children's and teen's areas, and even a "secret garden" accessible only from the children's area.
I invite you to join us on December 12 and to visit your library often to take advantage of all the Milwaukee Public Library has to offer!
Vision
MPL is an anchor institution that helps build healthy families and vibrant neighborhoods – the foundation of a strong Milwaukee.
Mission
Inspiration starts here – we help people read, learn, and connect.
Strategic Plan
MPL 2020 Our Plan for the Future